The fun part of engine tuning is to play around with the engine powerband. And what the heck is powerband?

In simple term, it is the power output across various rpm. There are just too many powerbands in real world. I categorize them into 3 types:



stock powerband
usually stock engine has loads of torque at low-mid rpm to ease cruising, and crippled mid-high to top rpm power to limit exhaust emission.
racing powerband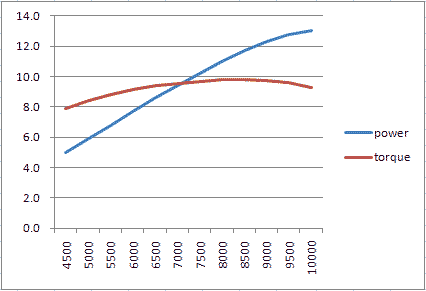 usually racing engine has loads of horsepower from mid-high to top rpm, as horsepower = (torque x rpm)/5252. Theoretically, the higher rpm we go, the more horsepower we can get. However, we need to sacrifice low to mid range torque to increase top end power. A torque-less engine is hard to drive on street.
Balance powerband
This is what I defined as street racing power band. You got enough torque from low to mid range for cruising, and increased horsepower from mid-high to top rpm for some street racing. It's especially good for mountain passes. This engine rev very smoothly from low to high rpm.
If you still don't get what are they, here's an easy real world indication --> engaged your 3rd gear and start accelerating from 30kph to 120kph. Now you can feel the engine power band across all rpm.
Stock:
30..40..50..60..70...80....90.....100......110.........120

Racing:
30.....40....50....60....70...80...90...100..110..120

Balance:
30...40...50...60...70...80...90...100...110....120